ok my submission...am a little scared. I never wrote a poem before
Title: El Gorrion (The Sparrow)
Author : Nuit
Category: POTC
Type: 'poem'
Rating: PG
Characters; Jack Sparrow O/C
Warnings: adult theme, character death
Brief summary: is short....Jack is just magical- who knows how long he has been sailing the misty seas...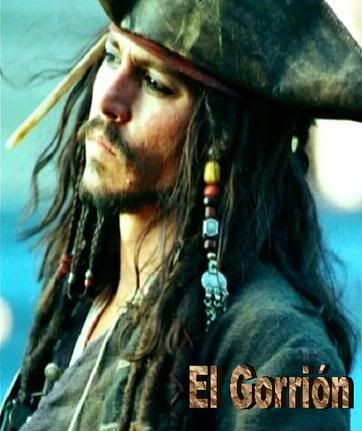 Clink
Dull coins in her hands.
Pennies that had pressed on her eyes
since his ringed fingers
charted the deepening
of lines on her face.
Fingers that had lost no tenderness
Just heat.
'A rare dark Beauty'.
All but a synonym for her name.
The kind familiar wind carries peals
of laughter back to her,
his hands in the flurry of sumptuous red,
her neck outstretched for him to taste.
No man ever dined so well.
She had glittered for him
in the Caribbean balmy music mansion
that glowed against the sea
Clink
Hold the lamp high,
From the tower she can see the rocks,
Rocks that lay in wait for less able sailors.
He would mourn the light still.
Wrinkled fingertips,
kissed by her smiling mouth,
Pinch the wick
He sailed through the fog of centuries
Undiminished
Goodbye Jack