So, who knows if I'll ever end up posting another piece of art in here, but, I made something today, and figured it turned out good enough that I ought to share with others who will appreciate it.
I'm not sure how rules go for posting photoshopped images, but I'm pretty sure it goes under the 'digital' heading, and the one I made isn't totally safe for work (nothing shows, though), so I'll put it as a
click
able tab.
So, here, I'll quit rambling: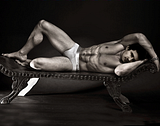 Disclaimer: Full credit for the original photo goes to Tom Cullis, and credit for the body goes to Benjamin Godfre! I made this purely in the name of entertainment.
Ermm... enjoy!